Almost 70,000 collections of NFTs now have no market value, dappGambl estimated in a recent report.
The non-fungible tokens (NFT) market is going through hard times, as 69,795 out of 73,257 digital collections have a market cap of 0 Ethereum (ETH).
According to a report by dappGambl, only 20% of the identified collections have full ownership. It means nearly 80% of all NFT collections "have remained unsold."
"This situation is telling of a significant imbalance between the creation of new non-fungible tokens (NFTs) and the actual demand for these digital assets in the current market landscape."

dappGambl
The report doesn't specify which NFT collections have been overviewed but says NFT Scan provided the data. The firm believes that many NFT collections face difficulties with adoption due to the lack of clear use cases, compelling narratives, or genuine artistic value.
As per dappGambl's estimations, around 195,699 NFT collections have no apparent owners, while the energy required to mint these digital tokens is comparable to the carbon footprint of 4061 passengers flying from England to New Zealand.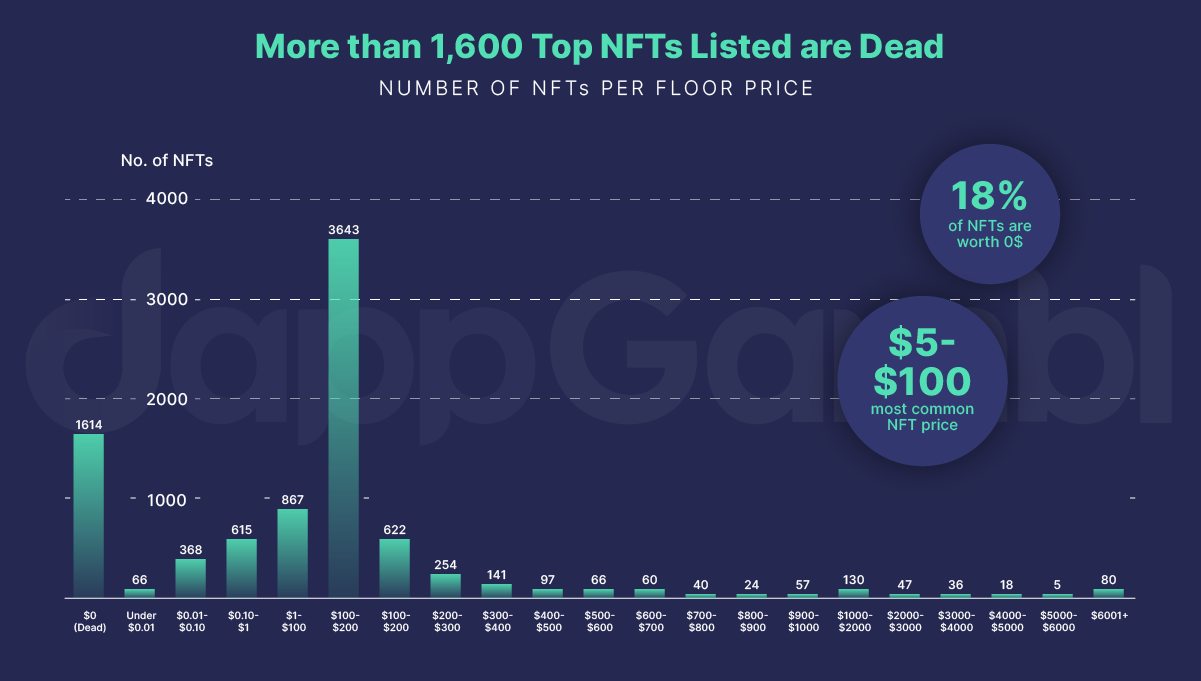 DappGambl also found that slightly more than 40% of the top NFTs have a floor price between $5 and $100, while 18% of digital collectibles have no price. Only less than 1% of NFTs have a price tag of over $6,000, the report pointed out.
Analysts at dappGambl say the data show that the NFT market is now mainly controlled by "speculative and hopeful pricing strategies that are far removed from the actual trading history of these assets."
Current state of NFT market
The market has seen better days as many NFT-related startups have faced difficulties recently.
For example, Glass Protocol, a video platform startup, has recently suspended its development, citing a lack of "sustainable demand for video NFTs." Another NFT startup Voice, initially planned as a decentralized social media network, also stopped offering its services amid regulatory roadblocks.
Dovey Wan, the founder of Primitive Ventures, said in a recent X post that the market crisis has also hit crypto unicorns. He hinted that OpenSea is now seeking fresh capital at a $1.2 billion valuation marketplace, down 90% from the $13 billion it had in early 2022.
This article first appeared at crypto.news