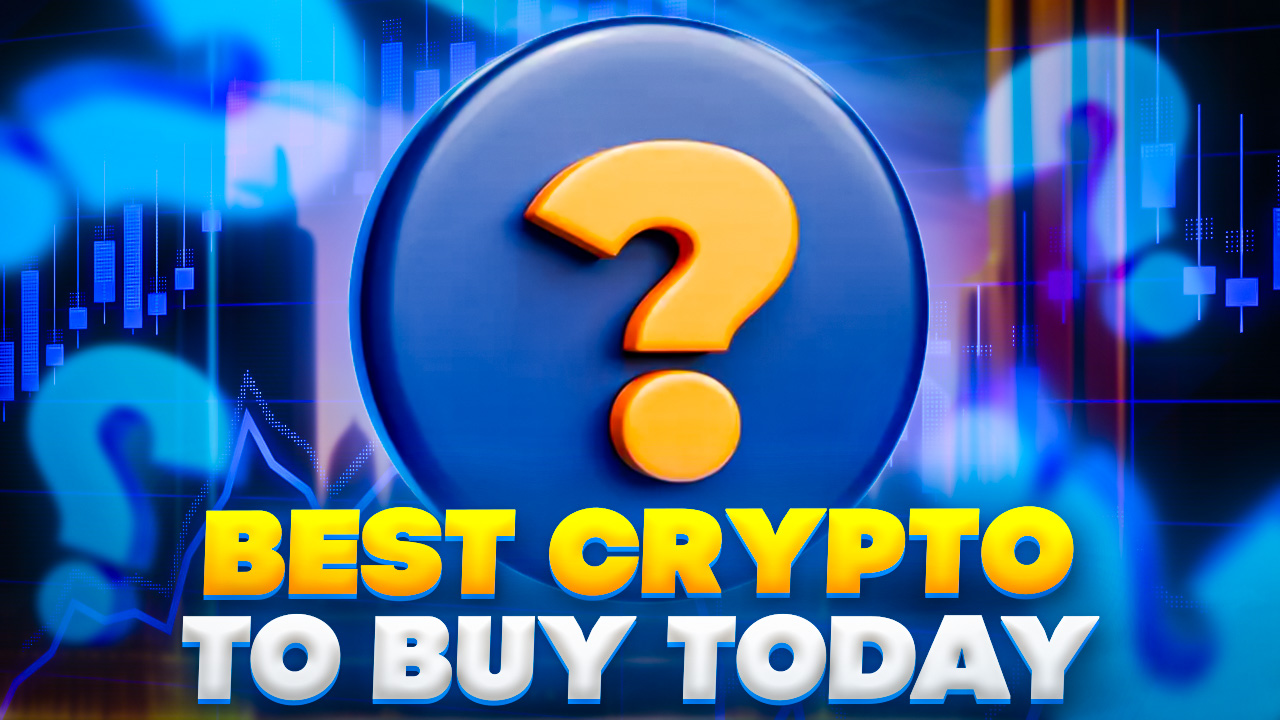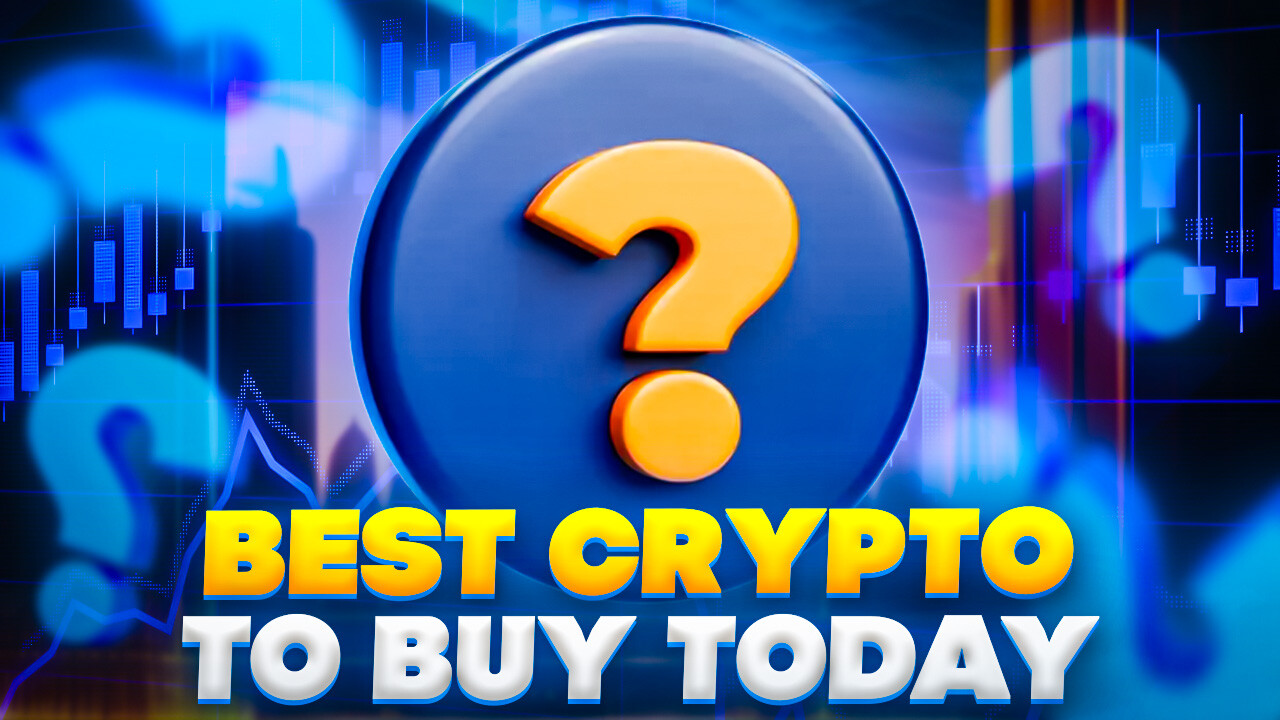 A group of U.S. senators led by Senator Elizabeth Warren is pushing for stricter oversight of the cryptocurrency industry to combat illicit financial activities.
Nine additional senators from both parties have joined Warren's call for legislation that would impose regulations on cryptocurrency transactions.
With Senator Warren's cryptocurrency oversight proposal gaining momentum, what is the best crypto to buy now?
Warren welcomed the additional backing, expressing feelings of positivity and readiness within Congress to confront the challenges posed by cryptocurrencies.
She emphasized that the bipartisan bill is currently the most comprehensive one addressing the misuse of cryptocurrencies and that it would offer regulators enhanced oversight mechanisms.
Endorsements have come from Senators Catherine Cortez Masto, Richard Blumenthal, Tina Smith, Bob Casey, Jeanne Shaheen, Michael Bennet, Gary Peters, Dick Durbin, and Independent Senator Angus King.
The chairs of the Senate Judiciary Committee and Senate Homeland Security and Governmental Affairs Committee, Durbin and Peters respectively, are among these supporters, highlighting the reach of the support into crucial Senate committees.
Several influential non-governmental organizations and industry groups have also lent their support to the bill.
The National District Attorneys Association, the Major County Sheriffs of America, Transparency International U.S., Global Financial Integrity, the National Consumer Law Center, and the National Consumers League have all endorsed the proposal.
Highlighting a potential risk to tax revenue, Warren referred to a sizable "crypto tax gap."
She warned that a delay in tax policy renewal could lead the IRS and the U.S. Treasury to forgo approximately $1.5 billion in tax revenue for the fiscal year 2024.
This concern highlights the urgency of the regulatory action proposed in the legislation.
Kicking off the week strong, Bitcoin holds firm at $27,326, up 2.08% so far today. It now looks to challenge the Fib 0.618 level of $27,473 and 100-day EMA of $27,484.
Following Bitcoin's momentum, other altcoins like Stacks, Wall Street Memes, Litecoin, Bitcoin BSC, and VeChain are also climbing.
Thanks to their promising utility and bullish technical outlooks, they seem to be wise candidates for the best crypto to buy now.
Stacks (STX) Price Faces Resistance, but Bullish Momentum Might Be Mounting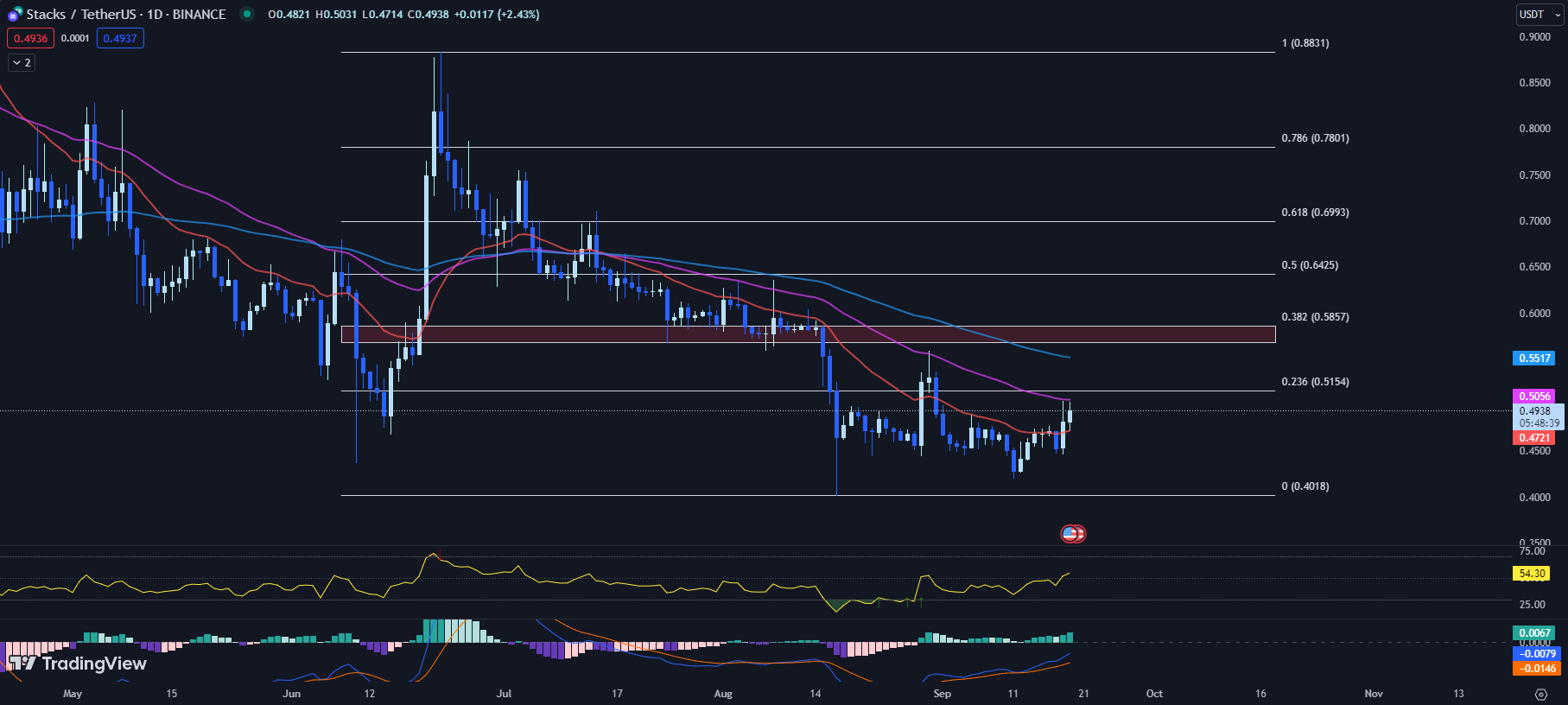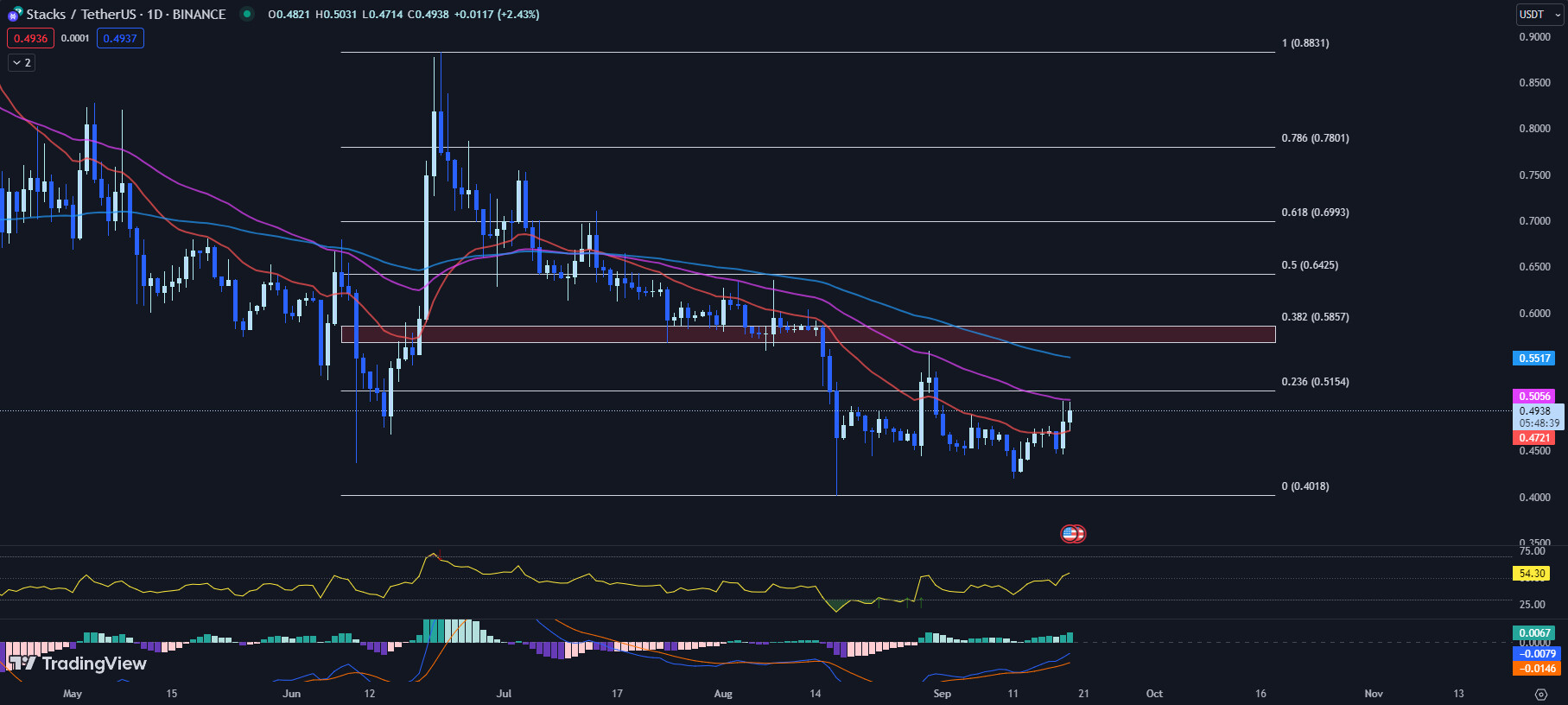 The STX price has recently broken above the 20-day EMA, a well-regarded sign of a potential upswing in the coming days.
Despite being in consolidation for the past 33 days, Stacks (STX) has been trading to the upside for the past week, seeing an almost 20% increase to the upside.
This recent uptick in the STX price may indicate a reversal from the previous bearish trend to a bullish one.
The STX price is currently trading at $0.0117, up by 2.43% so far today. This recent positive price action appears to be supported by a significant increase in trading volume, up by 319.62% to $56.9 million, and an increase in the market cap by 6.61% to $695.5 million.
Looking at the technical indicators, the STX price has surpassed the 20-day EMA of $0.4721, which has now turned into immediate support.
This level, coupled with the swing low support of $0.4470 to $0.4536, is critical to maintain the current uptrend. If the STX price manages to stay above these levels, it could further strengthen the bullish sentiment.
STX's RSI currently stands at 54.30, up from yesterday's 51.35, indicating that buying pressure is increasing. Additionally, the MACD histogram at 0.0067 from yesterday's 0.0042 which adds more weight to the bullish outlook.
Both these indicators suggest that the STX price could continue to see upward momentum in the short term.
However, the STX price faces several resistance levels that lie ahead. The first significant resistance is at the 50-day EMA of $0.5056.
If the STX price can break and hold above this level, it could pave the way to challenge the next resistance at the reverse Fib 0.236 level of $0.5154.
We're seeing potential signs of a reversal in the STX price. However, it's imperative to closely track the highlighted support and resistance levels, along with the trading volume.
While current technical indicators are leaning towards a bullish outlook, the STX price needs to uphold its momentum and breach the upcoming resistance levels to corroborate this prospective reversal.
Traders are always advised to consider market volatility and trade with discretion.
Wall Street Memes ($WSM) Presale Enters Final Week: Closing in Under 6 Days; Best Crypto to Buy Now?
The Wall Street Memes (WSM) cryptocurrency presale is entering its final week after raising more than $25 million, giving interested investors limited time to buy what some are calling the best crypto to buy now before the highly anticipated initial exchange offering (IEO).
With only seven days remaining in the presale, hype is building around Wall Street Memes as investors scramble to secure tokens ahead of the listing.
WSM has separated itself from other meme coins thanks to its strong fundamentals and community roots.
Launched in 2019 as an extension of the widely-followed Wall Street Bets subreddit, Wall Street Memes had already captivated over a million followers on numerous social channels prior to its crypto debut.
After successful NFT launches in 2021, the team debuted the WSM token in May 2023 to a massive fanfare. Crypto influencers like Joe Parys (380k subscribers) have praised WSM's potential post-listing.
Elon Musk is also a noted Wall Street Memes fan, frequently engaging with their content. Rumors even suggest Musk was behind a recent million-dollar WSM spending spree.
In the past week alone, multiple purchases over 10 ETH (approx. $16k) have occurred as investors scramble to get what some are calling the best crypto to buy now before exchange volatility begins.
Beyond memes, Wall Street Memes also offers staking rewards – a rarity among meme coins. Staking incentivizes holding, which can reduce selling pressure and boost prices.
Over 350 million tokens are currently staked, offering 57% APY. While this percentage will decrease as the pool grows, it should still outperform major staking coins like Ethereum and Solana (5-10% APY).
With a five-year unlock schedule, staking also gives Wall Street Memes longevity uncommon among meme coins.
Additionally, WSM has a relatively low supply of 2 billion tokens. Half were allocated to the presale, 20% to exchange liquidity, and 30% for community rewards like the ongoing $50,000 airdrop.
Litecoin (LTC) Surges 17% For the Past Week: Is a New Uptrend on the Horizon?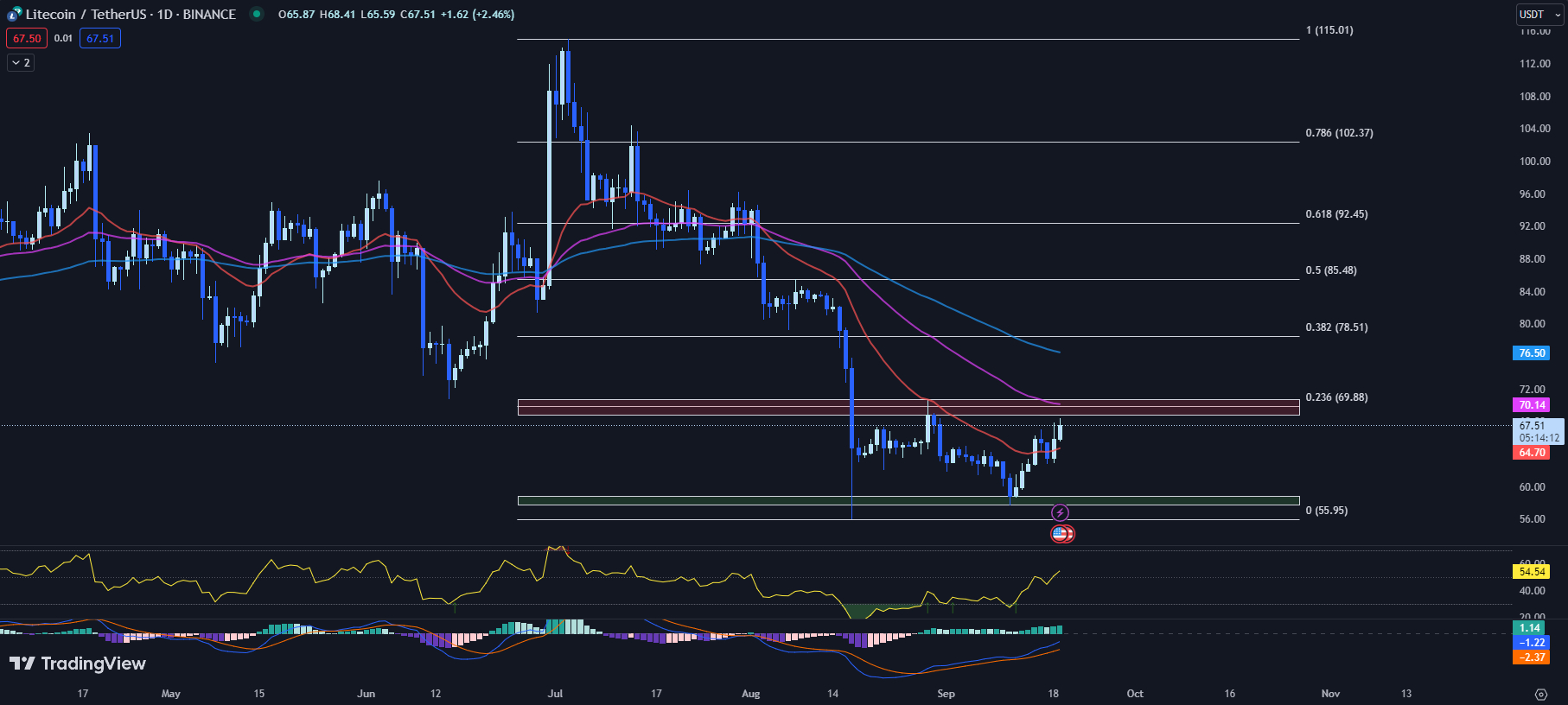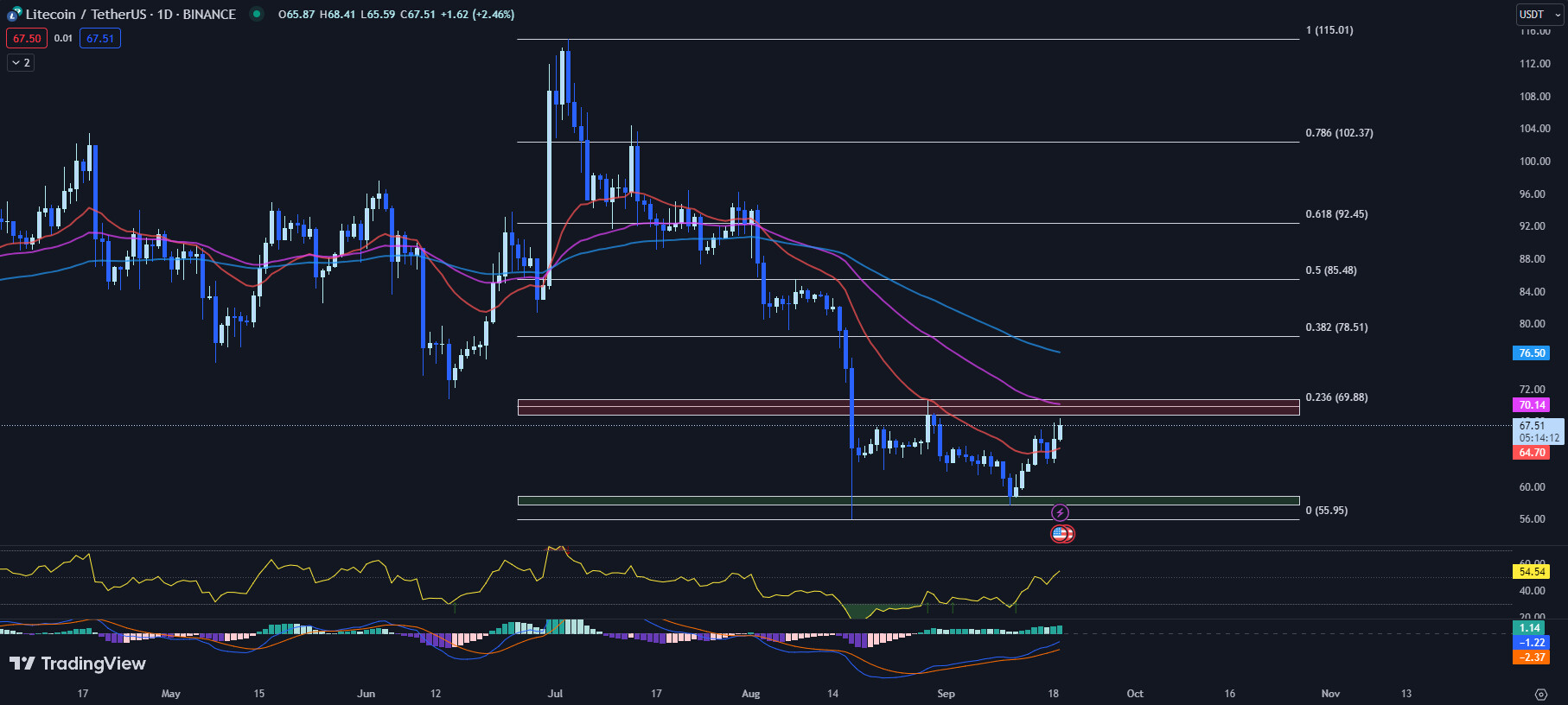 Litecoin has surged nearly 17% over the last week, kindling hopes that a new uptrend is underway. LTC currently trades at $67.51, extending gains by 2.46% so far today.
However, market participants are wary as LTC's trading volume has been declining for the past 24 hours despite the uptrend.
Delving deeper into Litecoin's technical indicators, the LTC price has managed to stay above the 20-day EMA at $64.70, which now serves as immediate support. The current swing low support zone of $57.74 to $58.83 further bolsters this level.
These support levels are of paramount importance to maintain the ongoing uptrend, and any breach could threaten the potentially mounting bullish scenario.
LTC's RSI has risen from yesterday's 50.73 to 54.54 today, indicating a gradual increase in buying pressure. Concurrently, the MACD histogram has also seen a slight rise from yesterday's 1.01 to 1.14. Both indicators suggest that the LTC price might continue to experience upward momentum in the immediate term.
However, a significant challenge lies ahead for the LTC price. A horizontal resistance zone spanning from $68.88 to $70.70 coincides with the 50-day EMA of $70.14 and the Fib 0.236 level of $69.88. This confluence of resistance levels could potentially slow down LTC's advance.
Meanwhile, the 24-hour trading volume has seen a 21.31% decrease to $324 million, while the market cap has increased by 2.28% to $4.9 billion.
This divergence between the LTC price movement and trading volume could be a cause for concern, as price increases on declining volume often indicate weak buying pressure and could potentially signal an upcoming price reversal.
While the LTC price has shown promising signs of an upward trend, traders should exercise caution.
The declining volume coupled with the imminent resistance levels could pose a significant challenge to the continuation of the bullish trend.
Bitcoin BSC: Elevating Bitcoin's Performance With Faster Transactions, Lower Fees, and Unmatched Efficiency
Bitcoin BSC, with its enticing presale price of just $0.99, a high staking APY of 150%, and endorsements from prominent influencers, is being hailed as one of the best cryptocurrencies to buy now.
The BTCBSC presale already boasts of an impressive performance, raising over $3.2 million so far as it sold about half its total token supply as investors rush to gain exposure.
BTCBSC seeks to replicate Bitcoin's meteoric growth by going back to 2011 prices and supply. With a maximum supply of 21 million, it mirrors Bitcoin's total circulation.
Crypto influencers have endorsed the project, citing the potential for massive growth. Previous Bitcoin clone coins like BTC20 have also massively outperformed Bitcoin this year.
One of Bitcoin BSC's most attractive features is its on-chain staking system that offers 158% APY, significantly higher than other chains like Ethereum. Over 1.659 million tokens have already been staked in the presale, showcasing demand.
By utilizing Binance Smart Chain, BTCBSC provides faster and cheaper transactions compared to Bitcoin. The BEP-20 token is also supported on popular wallets. An audit found its code to be free of vulnerabilities.
With its impressive presale performance and unique value proposition, experts believe Bitcoin BSC could be the best crypto to buy now before it potentially moons after its presale.
VeChain (VET): Navigating Immediate Resistance Levels and Consolidation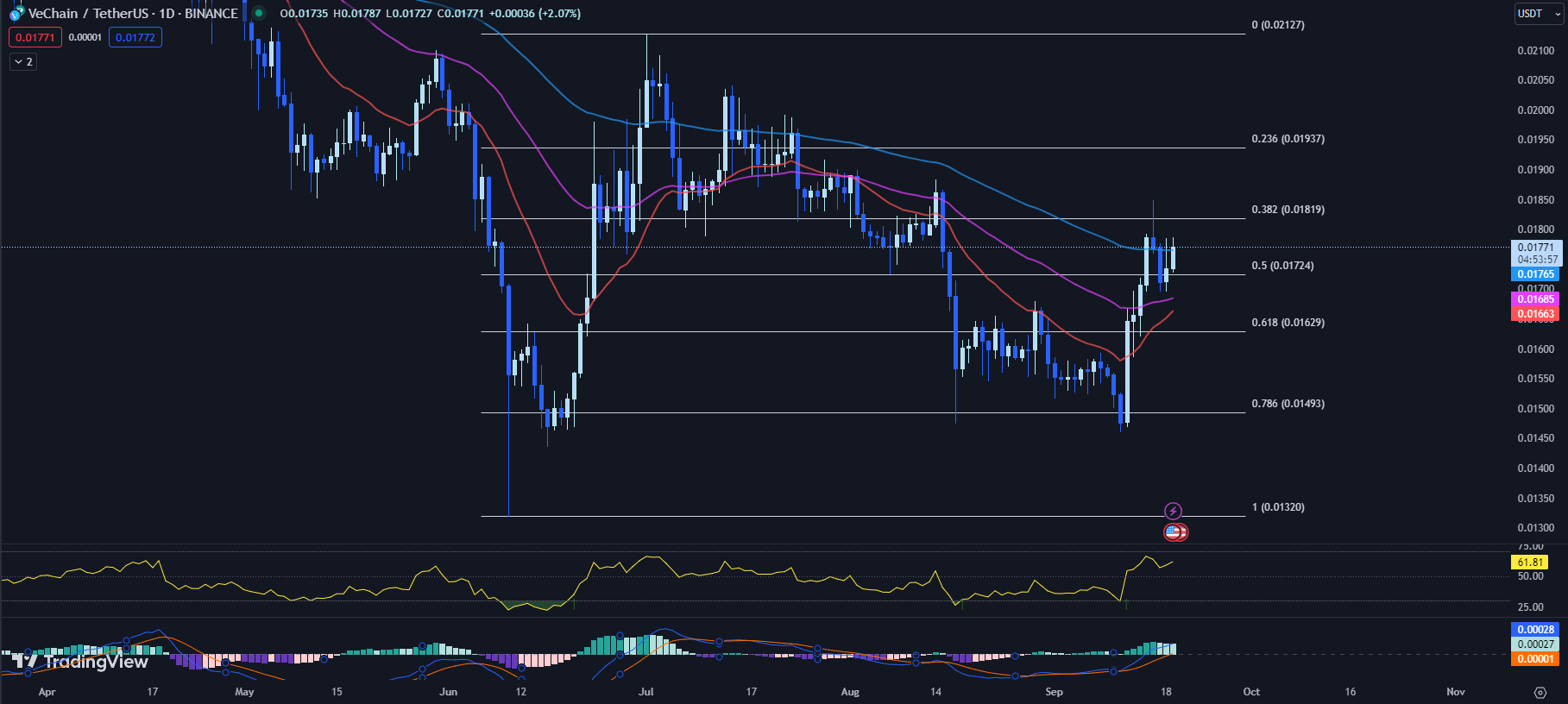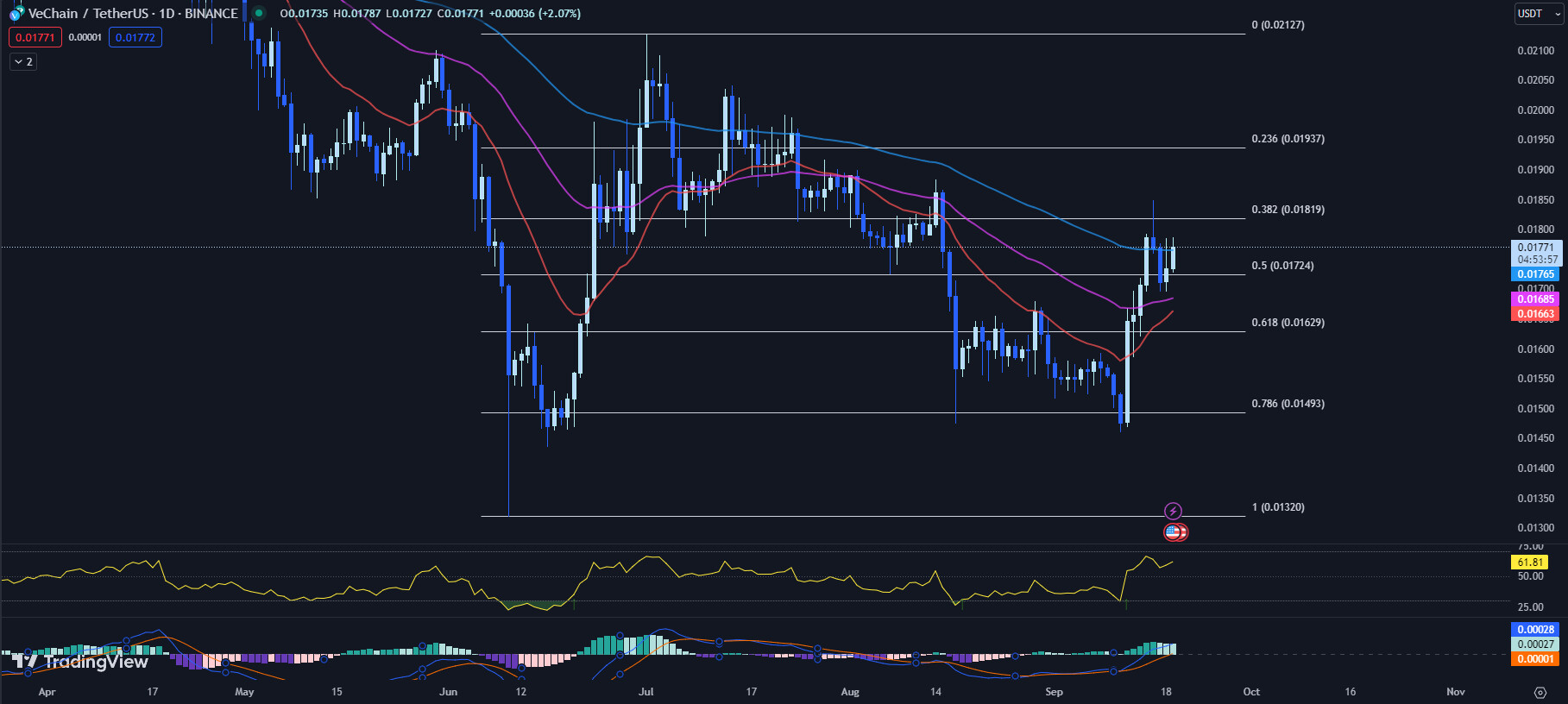 After posting gains of more than 25% from its recent low of $0.01460 last week, the VET price has been on a slight retracement over the weekend, bottoming out at the Fib 0.5 level of $0.01724.
Despite this retracement, VeChain (VET) has shown resilience, starting the week off strong with two consecutive days of gains.
The VET price is currently trading at $0.01771, up by 2.07% so far today as it attempts to break above the 100-day EMA of $0.01771.
Looking closer at VET's technical indicators, the 20-day EMA is at $0.01663 and the 50-day EMA is at $0.01685, both of which are currently below the VET price, suggesting that these levels could serve as support in the event of a pullback.
The immediate support level, however, is at the Fib 0.5 level of $0.01724.
Meanwhile, VET's RSI has risen from yesterday's 58.90 to 61.81, indicating an increase in buying pressure and a potential continuation of the uptrend.
Concurrently, the MACD histogram remains steady at 0.00027, reinforcing the likelihood of the ongoing upward momentum.
However, one concerning factor in VET's recent price action is the decrease in trading volume, down by 13.42% to $27.6 million, while the market cap has increased by 1.97% to $1.2 billion.
This divergence between the VET price and trading volume could signal a potential consolidation phase around current levels before the uptrend continues.
The immediate resistance for the VET price is at the 100-day EMA of $0.01771 – a level that it is currently trying to overcome.
Breaking above this resistance with significant volume could pave the way for further gains. However, failure to do so might see VET price consolidating or retracing to find support.
While the VET price has shown promising signs of an upward trend, traders should remain cautious due to the decreasing trading volume.
Breaking above the immediate resistance at the 100-day EMA with substantial volume would be a positive signal for VET's potential continuation of the uptrend.
Disclaimer: Crypto is a high-risk asset class. This article is provided for informational purposes and does not constitute investment advice. You could lose all of your capital.
This article first appeared at Cryptonews