Cardano (ADA) price started the day ranging between $0.37 and $0.40, representing a significant increase of 10% in the last twenty-four hours.
When this article was written, the price of ADA on CoinMarketCap was reported to be $0.3797. XRP was the top gainer on March 22, as the cryptocurrency reached the top spot thanks to its recent significant price increase over the last 24 hours.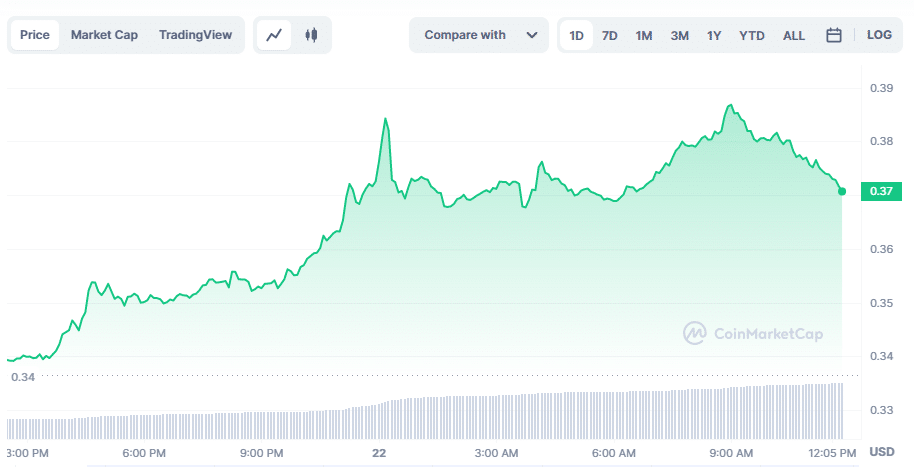 The trading volume of the asset has also increased by over 190% in a single day at the time of publication. According to the analytical findings provided by Messari, the number of active cardano wallet addresses has increased by 31% over the last week.
What is bringing investors to ADA
Cardano blockchain has only just, on March 16, announced its latest node version, which is version v.1.35.6. This was done to allow the dynamic peer-to-peer (P2P) networking capabilities.
The enhancement of the network's communication architecture is the target of this particular version. In addition, it is anticipated to maximize the network's resilience against hostile conduct and outages.
Stake pool operators are now testing out this capability, which is notable (SPOs). According to the report provided by IOG, the team discovered a flaw that made it difficult for P2P nodes to communicate with one another.
The network released its ADA-backed stablecoin called djed (DJED) late in January. The price of DJED was up by 1.05%, according to the data provided by CMC.
In addition, the network supported the plan known as CIP-1694, which sped up its progression into the period of Voltaire. The "on-chain decentralised governance" of the Cardano ecosystem was going to be scaled up with the help of this proposal.
This article first appeared at crypto.news